'Christmassy' is one of my favourite feelings (up there with pre-holiday excitement and when you're just the right amount of hungover to justify eating anything you want all day without it making you feel worse). I roll my eyes with everyone else when supermarkets start displaying their Christmas stock way back in September, but I'm secretly glad we get to start feeling Christmassy earlier and earlier each year.
That's why I always make a Christmas cake. They need to be made a month or so in advance to give the flavours time to intensify, which means I have a legitimate excuse to start getting into the Christmas spirit in early November without anyone rolling their eyes at me.
I made this one on 16 November, but if you make it this week or next it will still have a good amount of time to mature.
I've tried various recipes over the years, always tweaking them to add my favourite ingredients and take out anything I'm not too fond of. This year I'm re-visiting an old recipe, mostly because it's one where you don't have to soak your fruits in booze and orange juice overnight before baking. I had sort of forgotten about this part and didn't really have time to wait another day, but luckily this recipe cuts out that step by getting you to boil the fruit instead.
This year's tweaks to the original recipe include the addition of brazil nuts and walnuts, for texture. I've tried other nuts before, like almonds and macadamias, but found that they lost some flavour and crunch. I've also added a lot of dates, and replaced glace cherries with stem ginger because, well, glace cherries. I took out mixed peel too because I don't like that either and personally feel that it ruins everything.
So the ingredients you need are:
250g raisins
250g sultanas
250g dates
150g stem ginger (you can get it pre-chopped but I prefer to get it in syrup and chop it myself into nice, big pieces)
100g brazil nuts, roughly chopped
100g walnuts, roughly chopped
zest and juice of one large orange
150ml of brandy, plus extra for feedings
250g butter, cubed, plus extra for lining the tin
200g light brown sugar
175g self-raising flour
100g ground almonds
3 tsp mixed spice
2 tsp ground cinnamon
4 large eggs, beaten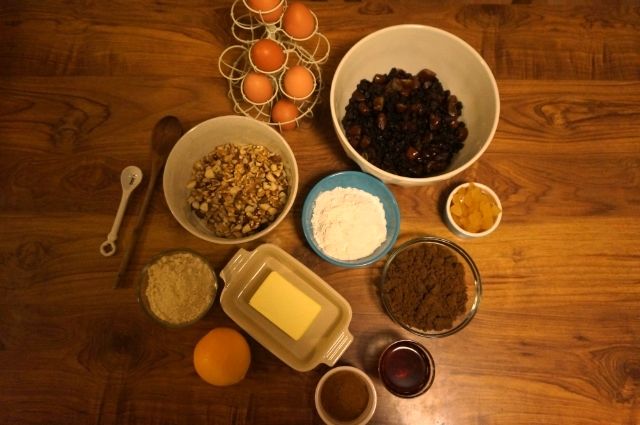 Step 1: Put the dried fruit, brandy, orange juice and zest, sugar and butter in a large pan on a medium heat. Bring it to the boil, lower the heat and simmer for 10 minutes (as well as cutting down on prep time, this has the added advantage of making your house smell wonderful). Pour the now reduced mixture into a bowl and leave it to cool for about 45 minutes (while you line your tin - see step 2 below).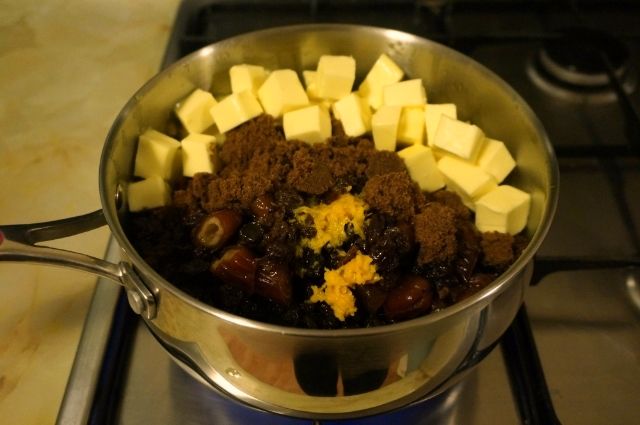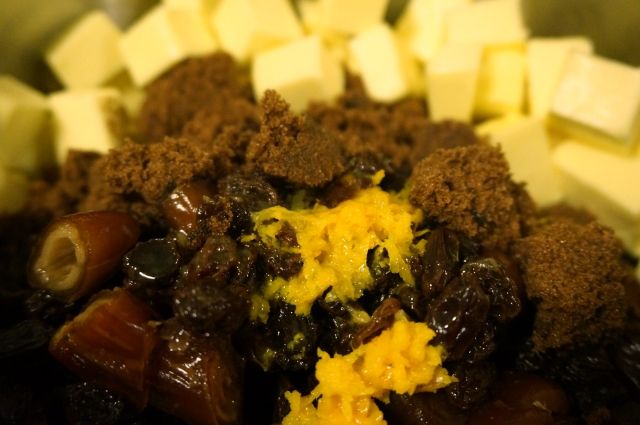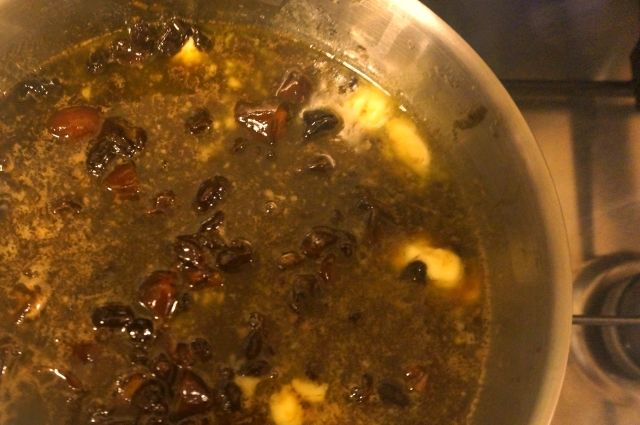 Step 2: Preheat the oven to 150C/130C if you have a fan oven/gas mark 2. Line a deep 20cm cake tin with a double layer of baking paper, using the extra butter to stick the paper down. Wrap a double layer of newspaper around the outside and tie it on with string (the best I could do was an old issue of the Time Out magazine).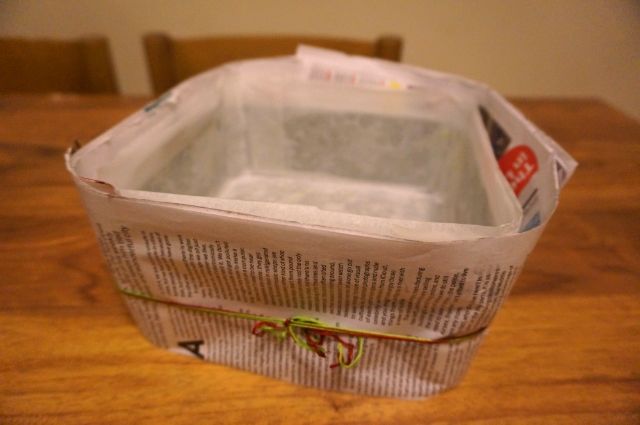 The fruit mixture will have cooled a bit and become thick and treacly by now.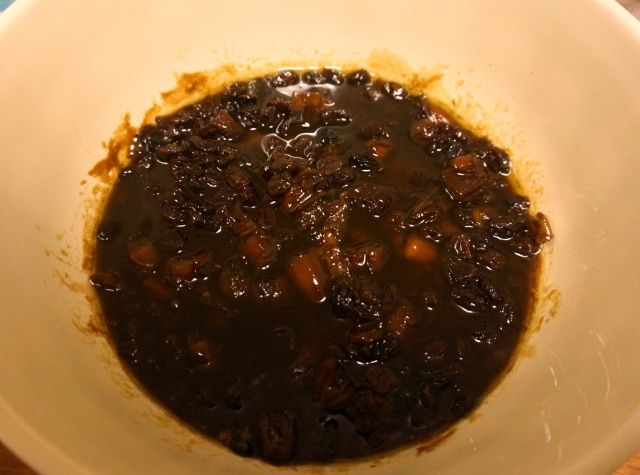 Don't you want to just dive in?
Step 3: Add all of the rest of the ingredients to the fruit. Stir well, making sure all the flour and eggs are properly incorporated.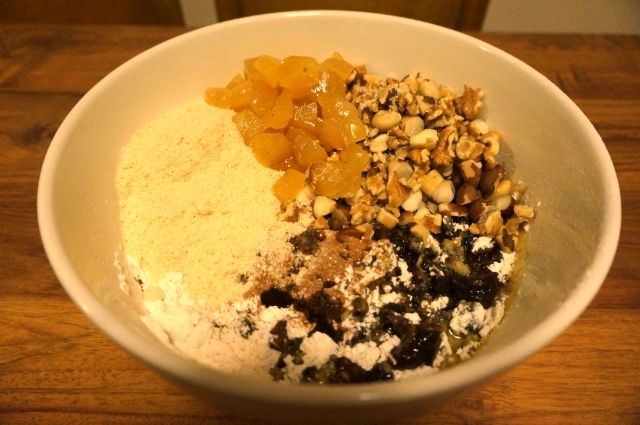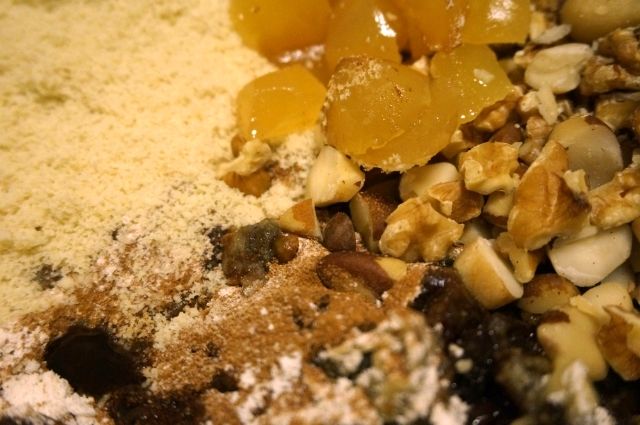 Step 4: Pour into your tin. Try not to eat any.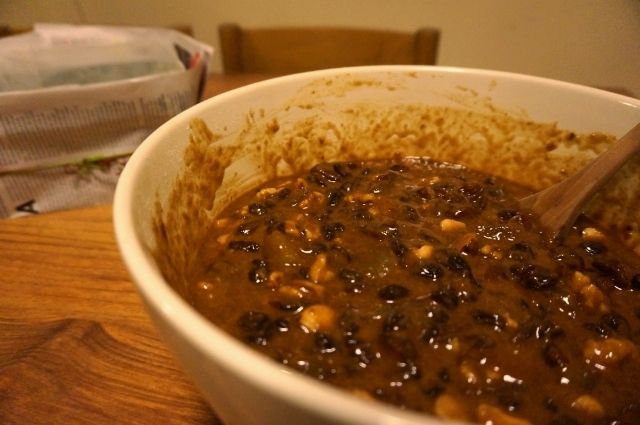 Step 5: Bake for two hours. It will naturally end up quite a dark colour because of the brown sugar, but if it looks like it's getting too dark, you can place a layer of tin foil on the top while it's in the oven, which should reflect the heat a little. I ended up doing this for the last half an hour of baking.
Step 6: The cake is ready when you stick a skewer in and it comes out clean. Use the skewer to poke holes in the cake and then pour over 3 tbsp brandy (you'll hear it absorbing all that lovely liquid). Leave it to cool in the tin.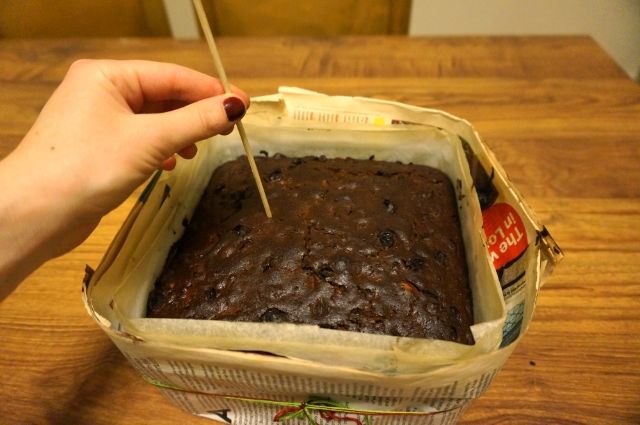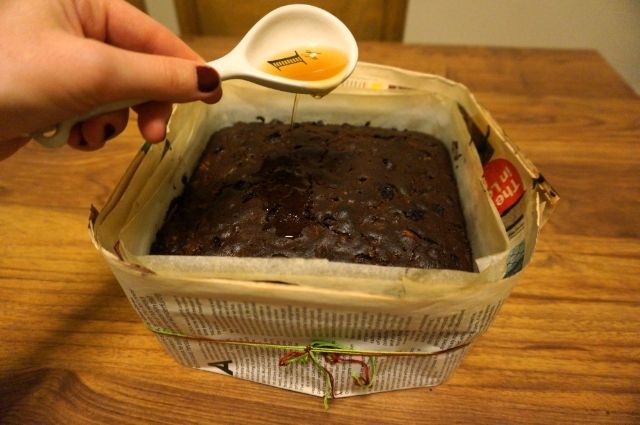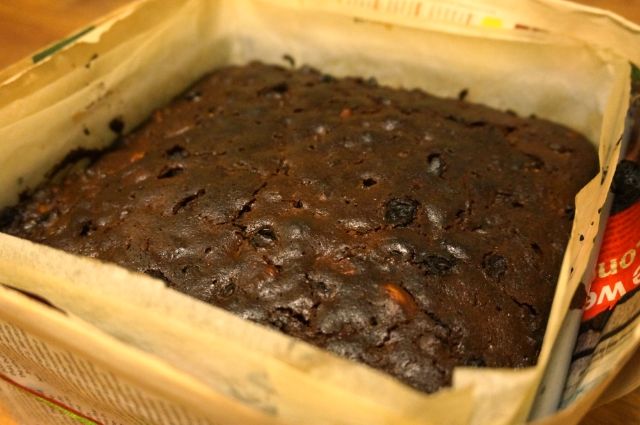 Step 7: Once cooled, take it out of the tin, remove the baking paper and wrap in cling film.
Step 8: To keep it moist, 'feed' the cake by pouring over 1-2 tbsp brandy every couple of weeks until you're ready to ice it, but leave a whole week between the last time you feed it and when you ice it so that it has a chance to dry.
Step 9: Try your very best to resist its calls from the cupboard until Christmas!
When do you think it's ok to start feeling Christmassy? What's the first thing you usually do to get into the spirit of it all?