To give you all a break from being jealous of my holiday, I thought I'd shake things up a bit with a London-based post.
I love Southeast Asian food and we had some incredible local dishes while we were away, but one thing I was really looking forward to having when I got home was a big ol' juicy burger.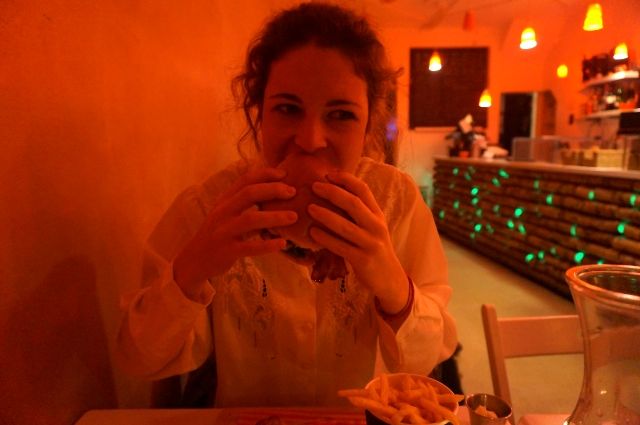 On the first Monday back I was on my way to work, ludicrously jetlagged and wishing I was still in bed, or better yet, still in Borneo, when I got a message from my boss saying that our building had flooded and we all had to work from home. It was like some sort of miracle! Honestly, it almost made me believe in God.
So anyway, I went straight home, got back into my pyjamas, sat on the sofa with my laptop and...err...had a highly productive day. Yeah.
It also happened to be half term and my brother was bored out of his mind at home, so since I was around I invited him come and visit. He shopped in the morning, spent the afternoon napping and watching Netflix while I did my work thing, and after I'd clocked off for the evening I took him for dinner at a place on Bellenden Road, the fit part of Peckham.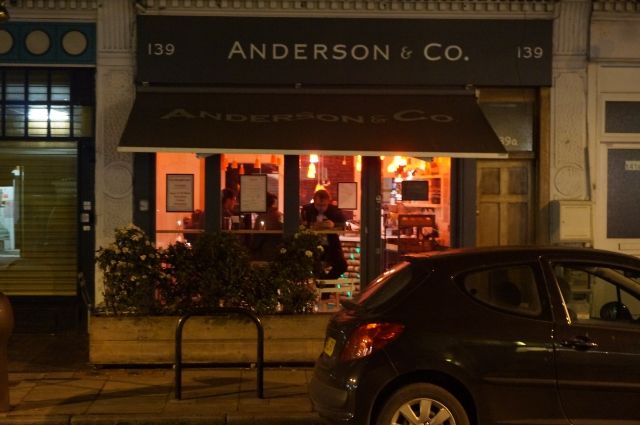 In the day it's a cafe called Anderson & Co, serving sandwiches and pastries and the like, but in the evenings from Wednesday to Saturday it becomes
Peckham Burger
, and serves some very impressive meat in a bun.
It's a small restaurant, with a fifties diner vibe going on, from the red and white striped place mats to what is pretty much the Dirty Dancing soundtrack playing in the background. The lights are even made of those red plastic cups from off of American house parties in the films, which give everything a reddish glow (it's not sunburn I swear).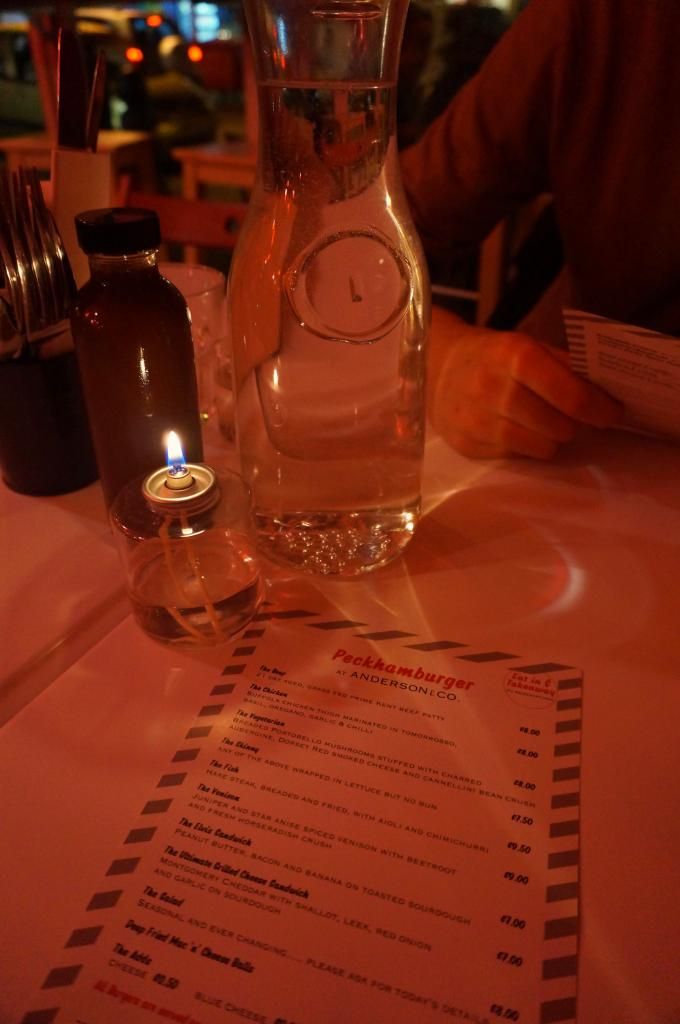 They had some kind of happy hour deal on where you could get any burger with any extras and a drink for £10. A bacon cheeseburger is my usual choice, but they don't have one on the menu here - just a plain burger for £8 that you can add cheese and bacon to for an extra £2.00, so it made sense to go for the deal. But of course we undid all our thriftiness by getting 'bloody mary' fries (crisp and well-seasoned) and deep fried mac and cheese balls (nuff said).
So anyway, looooook.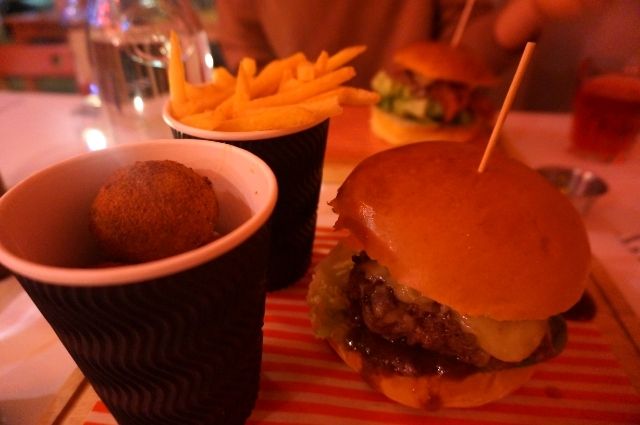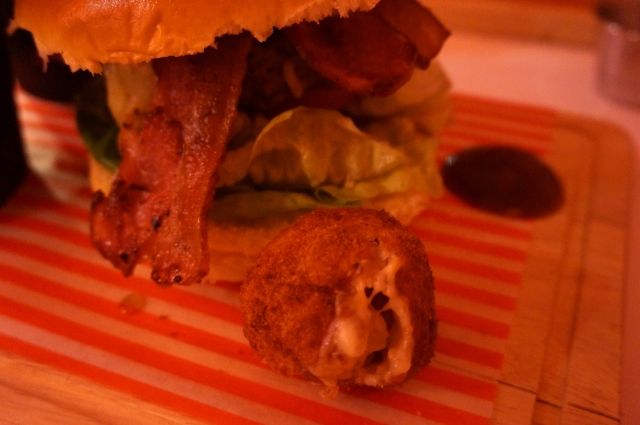 Don't you wish you were small enough to just climb inside and live there?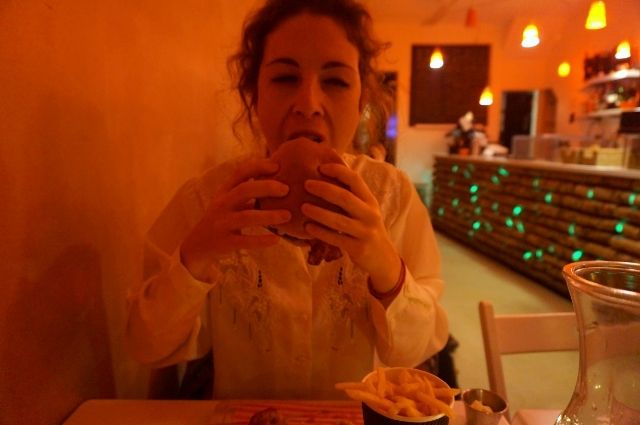 Not my finest moment. But I don't. Even. Care.
The burgers are really really good. Huge, juicy, flavourful patties served in a sturdy brioche bun (my fave) stuffed full of pickles, cheese and bacon, which was cooked just so. It comes with aioli, but that didn't stop me from smothering the thing in extra mayonnaise and homemade ketchup.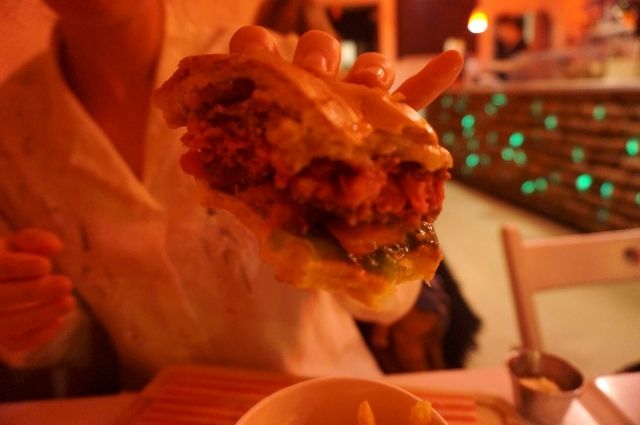 Want some? (Had to get Matt to take the close-up because my fingers were so sticky)
Despite having had an enormous burger each and superfluous sides, we still had space for dessert of course.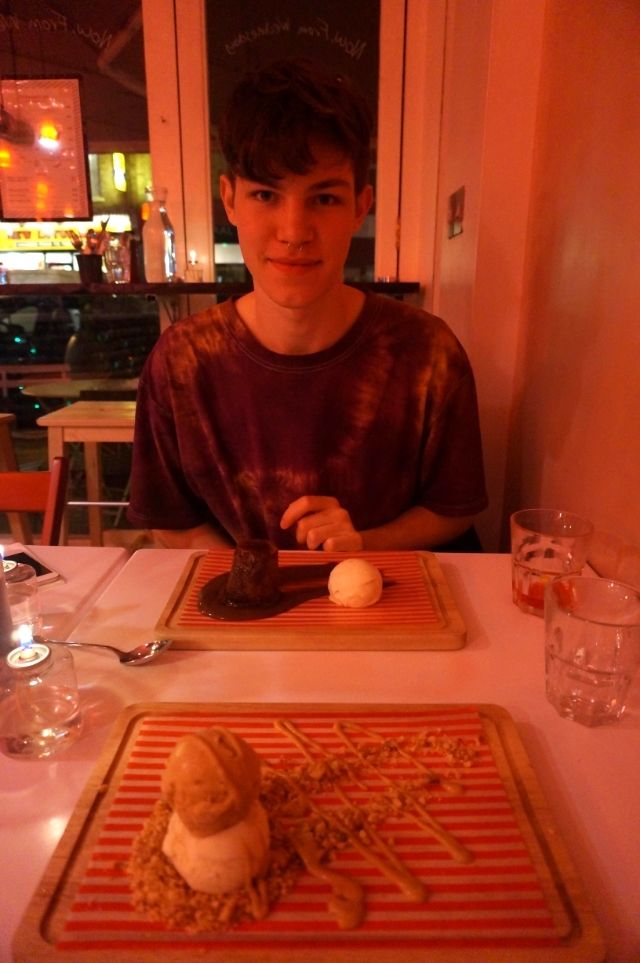 Matt got sticky toffee pudding (I've never tasted anything so treacly and rich) and I ordered the salted caramel sundae (what else?). The salted caramel ice cream was the best I've ever tried - super creamy with a proper salty hit. I don't know if it's made in house but kudos to Peckham Burger for adding peanut brittle. Dreamy.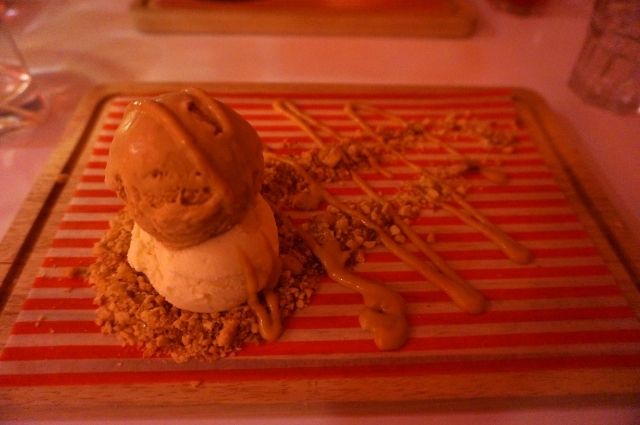 Not only was the food great, the waitress who served us was really friendly. And guess what, they do takeaway! Which is the best news if you live nearby. Which I do. Halp!
It was my first burger in about a month and I've made a promise to myself that I won't leave it that long again, so have you got any recommendations for my next one?