Winter has well and truly come now. And where's the ideal place to shelter from the bitter cold? Why, in a wigwam on top of a building in East London of course!
So that's where I went last week with two of my most friendiest friends.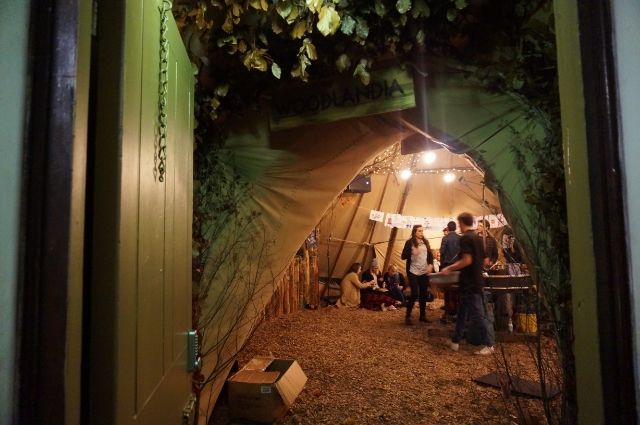 Countless themed bars and restaurants have popped up all over the capital to make the most of the wintery weather. The
Queen of Hoxton
near Liverpool Street has replaced its summer roof terrace with a gigantic tipi, where they're serving festive cocktails and a barbecued feast from 4pm every evening (except Sunday) until the end of March.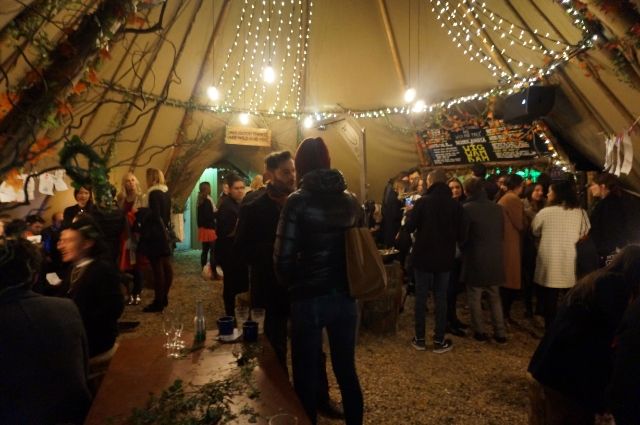 It's a magical setting - fire pits dotted around for you to toast marshmallows on and warm your hands at, fairylights mingling with the windows of the nearby office buildings, fake ivy strewn everywhere to give it all a wild, woodland feel...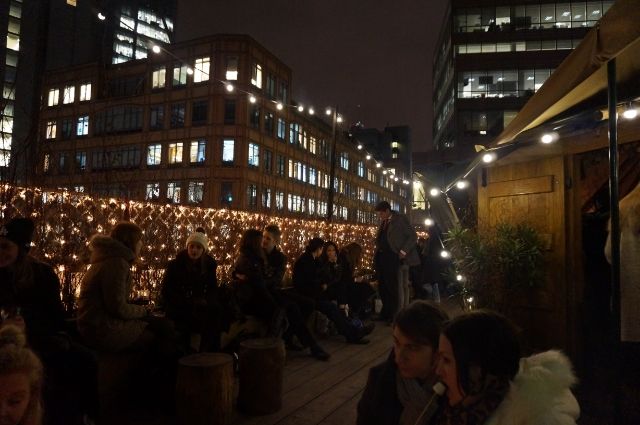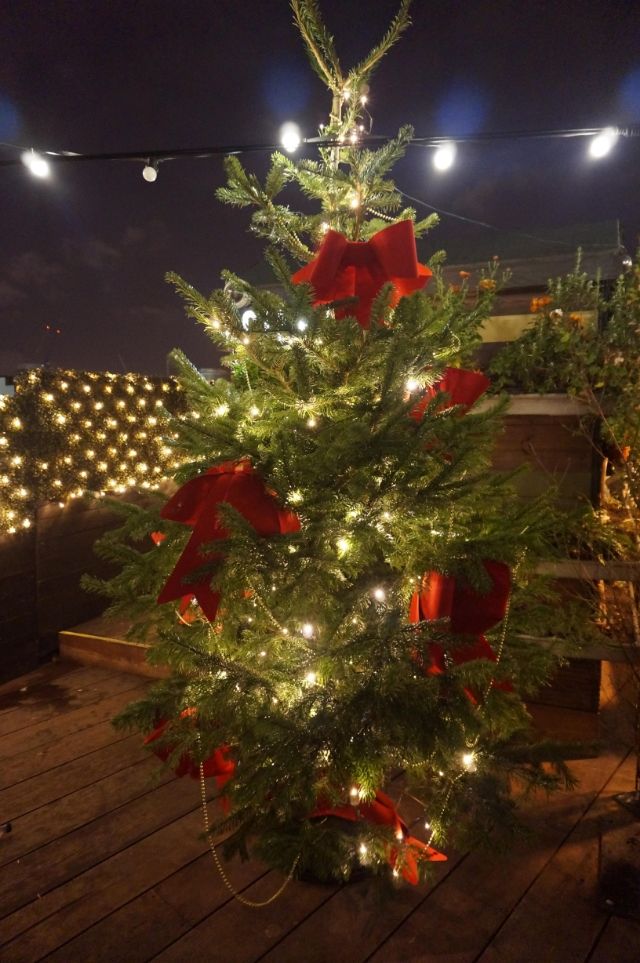 And a huge schwenkgrill (I had no idea what that was before I went - it turned out to be the beast of a barbecue pictured below) cooking huge hunks of meat, roast potatoes and a seasonal slaw.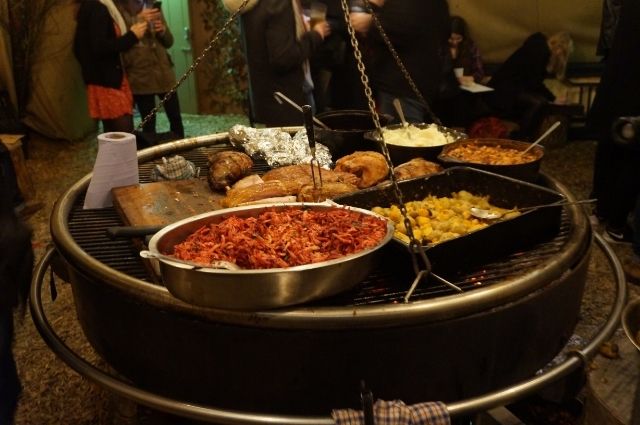 The food was fine. It didn't blow my mind or anything but it filled the whole created by numerous cocktails. The menu is on rotation and on Wednesdays it's slow (play on sloe or misspelling?) gin pulled lamb shoulder. The lamb was a bit dry (and not pulled either), but luckily the gravy was plentiful and excellent. There's a choice between brioche and mash and I would recommend the latter - turns out brioche has limited absorbancy and you'll end up with gravy all over your gloves.
The cocktails, however, were fabulous. I tried hot buttered rum for the first time, which has been my life's aim ever since I learned about it two weeks ago. It wasn't as buttery as I was expecting, more appley and tangy and light. But since I've never had it before that isn't necessarily the fault of the venue, just my own for being an over-indulgent glutton who was hoping for a mug of melted butter.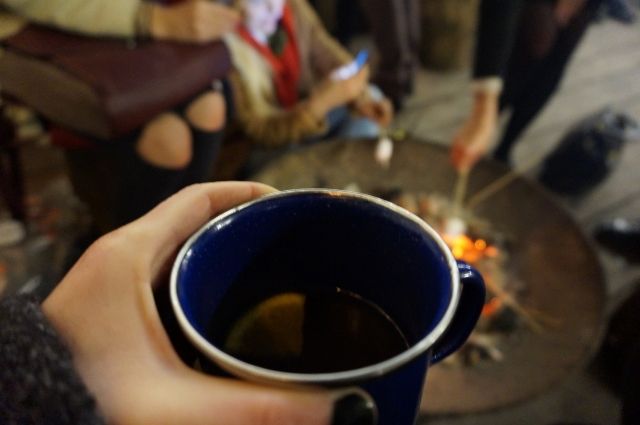 My favourite, though, was the eggnog. I'd never had it homemade before, only ever the shop-bought stuff (pilfered from my friend's parents' booze cabinet because we thought it was probably the least likely to be noticed). I remember it being too sweet and super cloying, but this...this was something else. Essentially alcoholic custard, the first sips were the richest, thickest and creamiest, but I don't think even I could have coped with more than a few mouthfuls. So luckily, as the ice melted and blended in, it all thinned a bit, the sweetness was taken down a notch and suddenly it was perfect.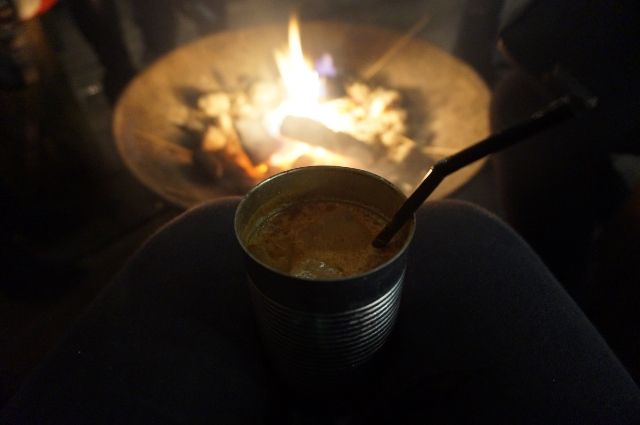 We didn't know until we got there that the rooftop was closed for a private party until 8pm, which was a shame because if we had been able to go up when we arrived at 6pm we would have got a nice little place to sit inside the cosy wigwam itself.
As it was, the bar downstairs gradually got fuller and fuller and by the time 7.45 came around there was an actual queue waiting at the bottom of the stairs. When we finally got to the rooftop the only seats left were outside. We managed to get a space right beside a fire so at least we were warm, but we left smelling like bacon. And if we had been able to go up earlier we might not have had to contend with 25-minute queues. They eased up a bit as the night drew on, but don't go too late because it shut at 10pm.
So, I'd recommend calling ahead to find out if there's a private party the night that you plan to go. And I would get there as early as possible. And maybe try and go on Monday or Tuesday, which may be quieter. Other than all of that, it's an enchanting way to get into the festive spirit and make the most of the frosty weather.