It would take a whole blog post to explain where I'm "from" (we moved around A LOT), so whenever anyone asks I just make it simple and say that I'm from London. The five years that I've lived here is the longest I've been in one city since I was small, so I reckon that qualifies me. For the first three of those years I lived in various places in North London, but two years ago I moved south of the river by chance and have never looked back.
You're probably wondering where I'm going with this. Well, I'm going saaaf and I'm taking you with me, so I can show you where to get great brunch and see some smashing art in my little bit of London.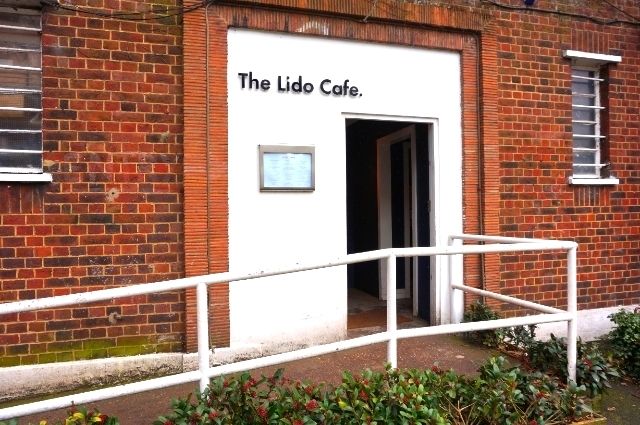 First up, brunch at
The Lido Cafe
in Herne Hill.
The cafe serves consistently excellent breakfast and is connected to Brockwell Lido. In case you don't know already, a lido is an outdoor swimming pool, and apparently this one is really popular. I don't know from experience because I don't really do swimming, particularly not in open-air, unheated water in the UK.
We sat inside because we didn't fancy tackling cutlery with numb fingers, but there is a patio outside and it's lovely to sit out there in the summer, watching bonkers swimmer people bobbing about in the pool.
Yep, I got a bloody mary, and it absolutely baffled a small boy at a nearby table. He stood very close to us, stared at my drink for a while, then turned to his mum and exclaimed "she...she's got...celery in her Coca-Cola!"
Pahahahahaha!
Do you think that would be tasty though?...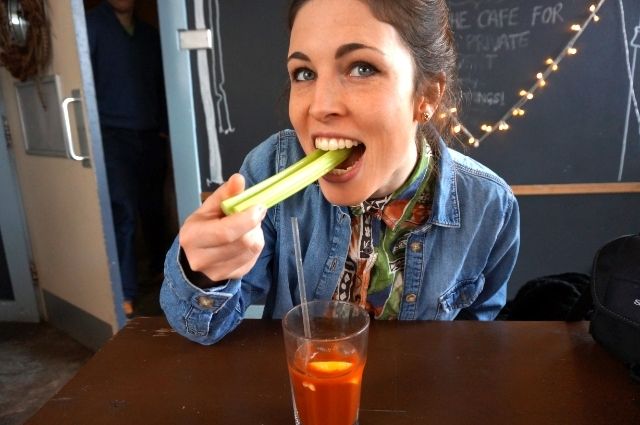 Anyway, here's a pic of me enjoying said celery (this only ever happens when I have a bloody mary, and in this case it was only because I was really hungry and impatient for my eggs royale).
I managed to get a quick photo of Tom's before he devoured it (note the bite of sausage already missing), but enough of that, back to MINE!
Looooooooooook. It was so good, creamy hollandaise with a subtle lemon tang, perfectly poached eggs, salty smoked salmon and sourdough toast to soak everything up. Perfection.
Full of eggs and celery (but not Coca-Cola), we strolled along to
Dulwich Picture Gallery
. It's a bit of a walk from The Lido Cafe, about fifteen minutes, but you get to wander through pretty Dulwich Village on the way.
Dulwich Picture Gallery is the first ever purpose-built public gallery and it is wonderful. It houses an impressive collection of European Old Master paintings from the 17th and 18th centuries, hung in intricate, gilded frames on richly coloured walls, and is lit from above by skylights. There are big names here, from Rembrandt to Gainsborough to Rubens...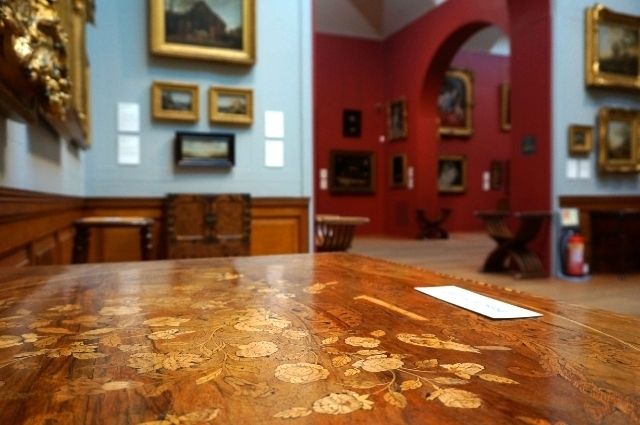 But we weren't here just for a relaxed meander through the collection, we had a difficult task on our hands. As part of a project that's aptly named
Made in China
, conceptual artists Doug Fishbone has replaced one of the permanent pieces with a fake produced by a Chinese factory, and the public has been invited to go along and guess which one it is. Exciting!
It's a great way to get you looking closely at the permanent collection, eyeing up the brushstokes, searching for signs of age and wear. I even found myself reading the captions more carefully, and as well as being helpful they are surprisingly humorous. One described its Oxy subject as stealing the show, "poised like a bulky ballerina at the bar", and the painting below apparently contains "one of the most heroically poetic dogs in art"!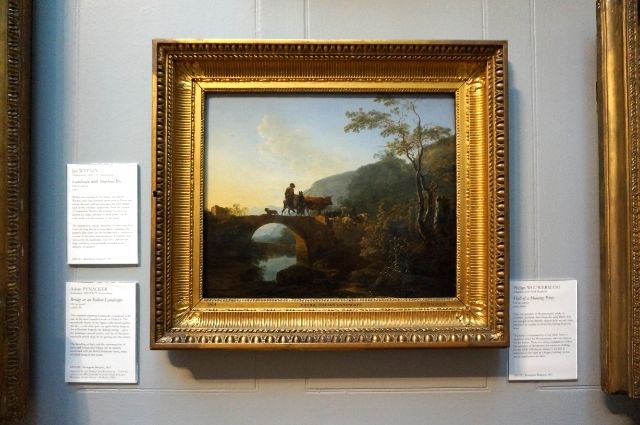 Could that be the replica?
How about this one?
Or that?
Any of these?
To be honest, I had no idea what I was looking for.
There are numerous references to copying in the captions, such as with the two paintings below - "Landscape with Windmills near Haarlem" by Jacob van Ruisdael, and a copy of it by Constable. It was explained that the Gallery regularly loaned paintings to the Royal Academy for the students to copy.
(Tom suggested that they might have made a copy of the copy, in a sort of meta, head-messy way)
Apparently one of the canvases even has tiny pinpricks all along the edges, which may have been so that it could be copied more easily to meet the high demand for reproductions!
It really does get you thinking. If famous paintings were traditionally copied in such a way, what makes it so different when a commercial studio in China does it? The replica has been made by hand, using similar equipment and techniques and requiring a similar level of skill, so why is it less valued than the original? Is it to do with novelty? Age? The fact that it's been hung in a prestigious gallery?
My only criticism is that I would have liked more information about the commissioning process and the replica industry in China generally, but maybe they were worried about giving too much away.
Anyway, in the end I submitted that this one, "The Guardian Angel" by Marcantonio Francesschini, was the fake. I thought it looked in pretty good nick for something that was painted in 1716, and the caption said it had recently been restored, which I thought could be an attempt to throw us off (super detective skills right here)...
What do you think? Reckon I got it right? All will be revealed on 26 April!