I've been wondering if the world needs another review of Shackfuyu, since everyone and their dog has already blogged about it. But I had a bloody good time when I went there recently, so I'm writing about it anyway.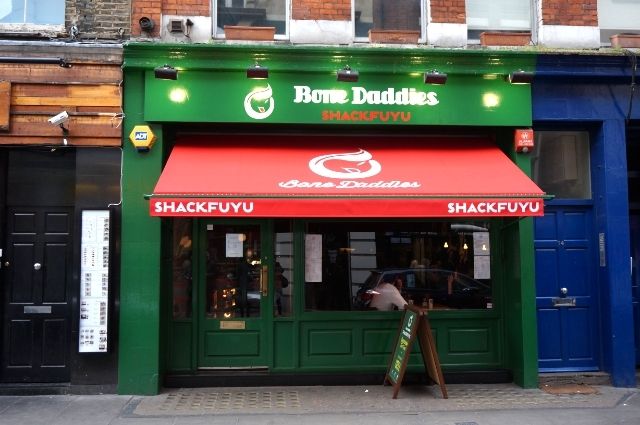 Shackfuyu
is a year-long pop-up from the same guys that run Bone Daddies and Flesh & Buns (which I
wrote about
way back when). It serves bold, modern Japanese-style sharing plates of gorgeous food. I'd heard so much about it by the time I got the chance to go, that I was immensely excited and experienced the slowest Friday EVER while waiting for 6pm to roll around.
Once I got there though, time seemed to speed up and it was all a bit of a whirlwind. I tried so hard to commit every single taste and texture to memory, but everything's a bit hazy. I have no idea why. I suppose it might have something to do with the fact that while we waited half an hour or so for our table (in their cosy, underground waiting-for-a-table bar), I had a pint of Asahi Super Dry...Or because we had multiple (and very strong) cocktails over the course of dinner...And a final gin and tonic (or two) for the road. Ok yeah, basically we got pissed and my memory got wiped.
Luckily, looking through the photos and having another read of the menu has rejigged things a bit, so I can hopefully give you a good idea of how excellent the food was. I'd like to make it very clear that the lack of detail is in no way a reflection of the impact that the dishes had on me, simply evidence that I should know by now that I can't handle school night drinking.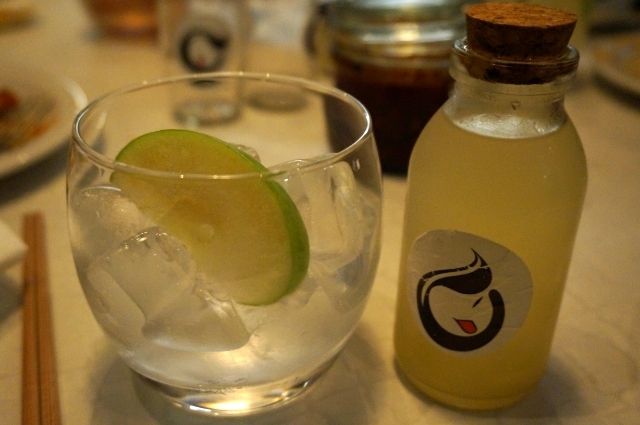 So anyway, I'll start with the cocktails (which is kind of ironic since they were the end of everything), which come ready-mixed in little apothecary-type bottles. There are four kinds on the menu, but I only tried two (which isn't to say that I only had two cocktails...). My favourite was the Ringo Starr. Simple and sharp, it combined gin, sake and apple juice. The other one I tried was the Sake Cherry Gimlet, which was sweeter and...err...cherry-y. Both were strong, yet went down (too) easily.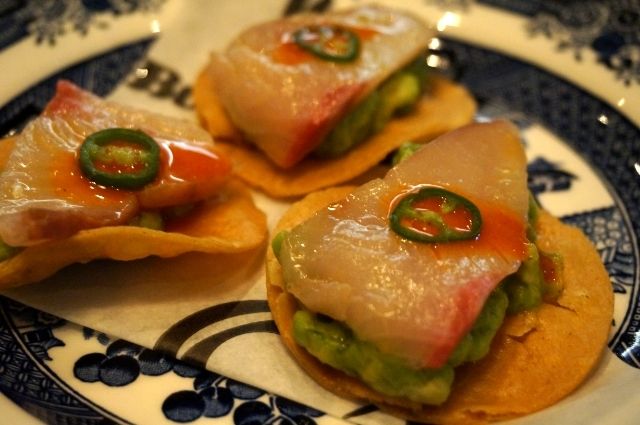 These beautiful little mouthfuls are yellowtail sashimi tostadas with avocado. They were my friend's choice and not something I'd usually order, but I remember being very glad that we did.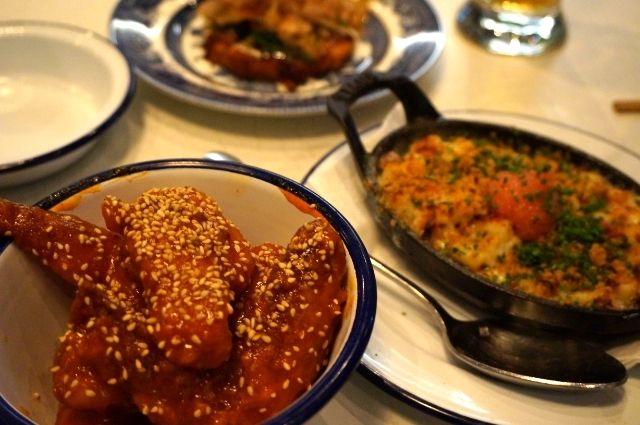 The korean fried wings were sweet and salty, crunchy and sticky. 'Nuff said.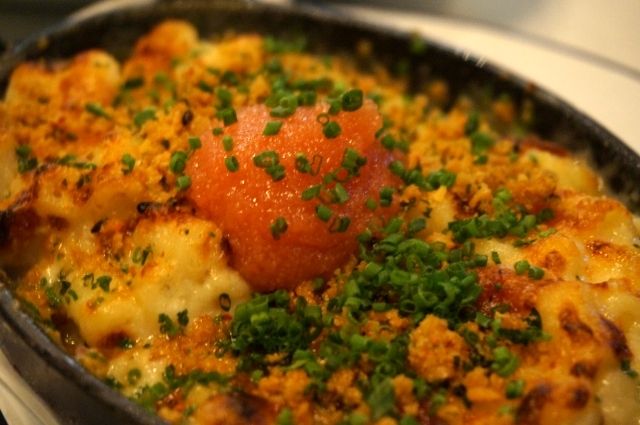 The sauce in the mac and cheese was creamy and pleasingly thick. It was topped with a scattering of the Bone Daddies signature cock scratchings, which are (I hope!) bits of very crispy chicken skin. Unfortunately, I found the flavour a little overpowering. It made the dish even richer than normal and I couldn't have eaten more than a few mouthfuls (which is saying a lot because usually I'd happily eat my own weight in mac and cheese).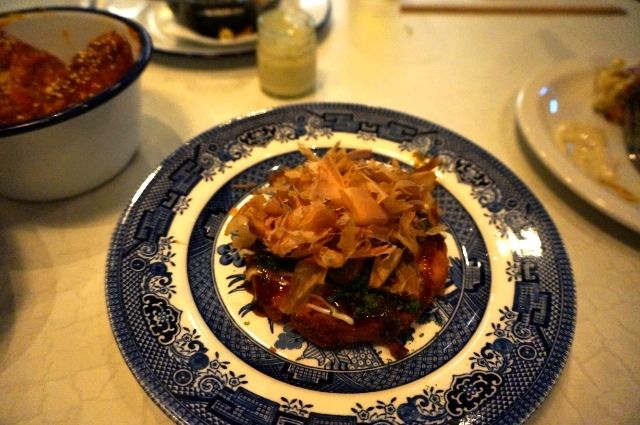 The imaginative prawn toast masquerading as okonomyaki was my absolute favourite dish. Okonomiyaki is a type of Japanese omelette which is served topped with squiggles of mayonnaise and feathery dried tuna flakes that sway and shimmer in the heat of the omelette underneath. This was an inspired take on that, which used prawn toast as the base instead. It really looks like okonomiyaki, but definitely tastes like prawn toast. Like the best prawn toast you've ever tried.
The miso aubergine was another surprise winner. It was much sweeter than I expected, the caramelised crunchiness contrasting nicely with the squishy flesh.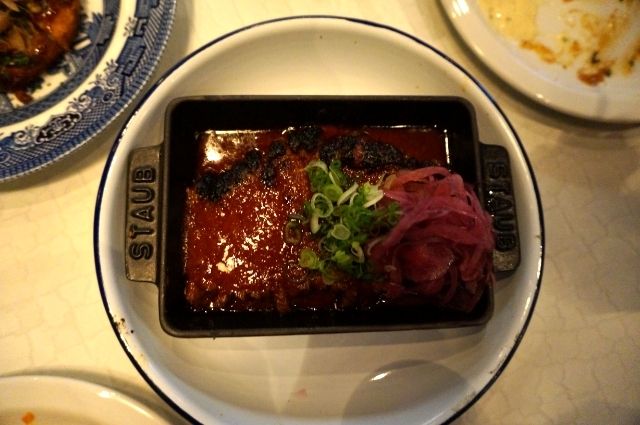 The beef was tender and, well, meaty, its richness offset by the tang of kimchee.
Hmm what to say about the fried potatoes? They were perfect for dipping in chilli oil and yuzu mayo, even though they came already doused in curry sauce (there is never enough sauce when you're three cocktails down).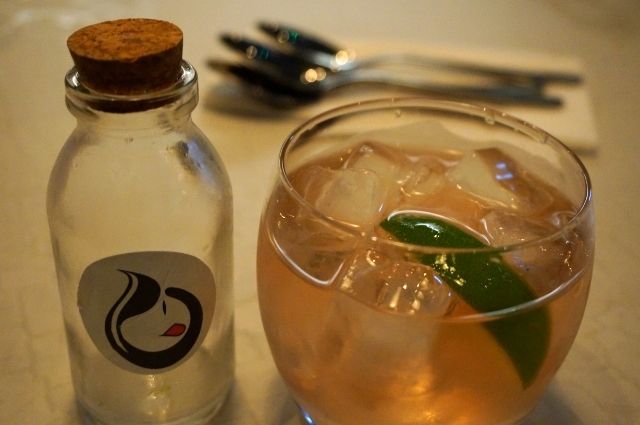 Sneaky post-dinner, pre-dessert cocktail.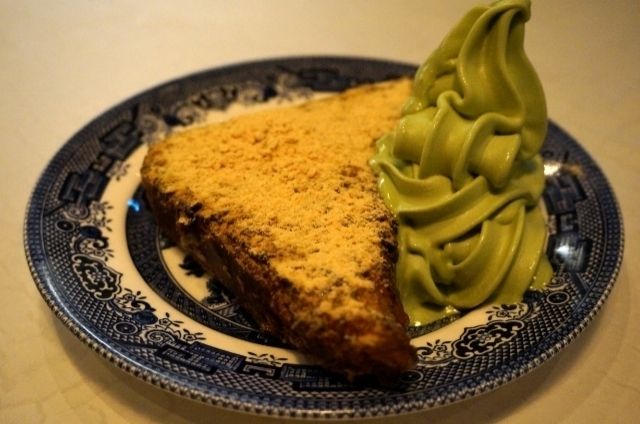 Now THIS, this I do remember clearly. This is kinako french toast with matcha soft serve ice cream, and it was the dish I was most looking forward to. A huge wedge of brioche generously soaked in custard, then fried until it's crisp on the outside and perfectly squishy within. I'm not a fan of green tea usually, but the creamy, slightly undersweet matcha ice cream was the ideal accompaniment. My only issue was that they recommended we share it between the three of us, due to its size. I'm sure they were just being helpful, and it was probably for my own good, but I wanted one TO. MY. SELF.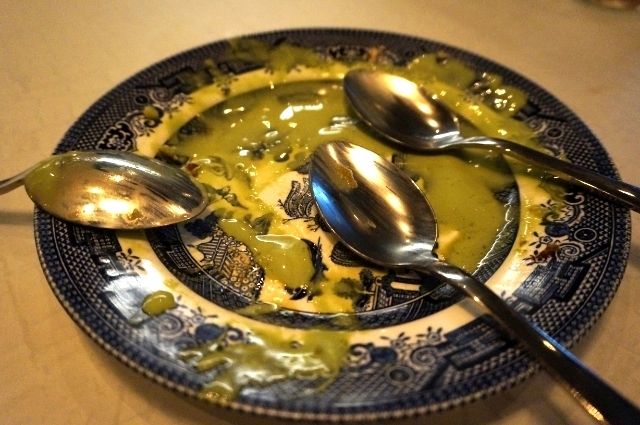 I was so sad when it was gone. Although that might have been all the gin.
The single downside to the whole evening (besides my blackout), was that they took away dishes as and when they looked empty. I like to keep them close until every scrap of sauce has been mopped up. Who knows if the mac and cheese might have been ramped up by leftover chicken wing sauce? Maybe the okonomiyaki could have tasted EVEN BETTER after a dip in the beef liquid? I don't know, I never got the chance to find out.
It didn't really matter though because everything was still exceptionally...tasty. That's a simple word, but it's the best way to describe it all (especially when you suffered alcohol-related memory impairment). All the dishes were very different too, each one with its own unique taste.
I can't wait to go back. And remember it better next time.