This is going to sound weird but, as much as I love street food markets, I also fear them. So it was with a mixture of excitement and trepidation that I recently went to
Dalston Yard
Street Feast...
Let me explain: the scary thing about street food markets is that there is SO MUCH CHOICE. Yes, you can order dishes from a number of different stalls (there's no better excuse to have multiple dinners), but it's impossible to try absolutely everything. You have to be selective. But how do you know that you're going to pick the right thing? How do you know that you aren't going to spend your hard-earned cash (and time too, depending on the queues) on a Korean/Mexican hybrid burrito, only to be overwhelmed with food envy when you pass someone happily devouring a fully-loaded lobster roll on the way back to your seat?! I think that might be one of my biggest fears, and I'm sure it's one of yours too.
Well you need fear no more! Because I'm going to share with you the two-phase strategy that I deploy whenever I go to a street food market, to neutralise the threat of gastronomic disappointment.
First, I discreetly gather tactical data about the target, such as which producers will be there and which dishes look particularly good. Instagram, Twitter and Tripadvisor are all valuable sources of such intelligence.
Phase two, the recon, takes place once I'm actually at the venue. Before I find a table or even get a drink, I steathily scout
the area, verifying the information gathered during my intelligence operation
and checking the coordinates of the stalls I want to infiltrate. I'll usually go around more than once, just to ensure I've secured the perimeter.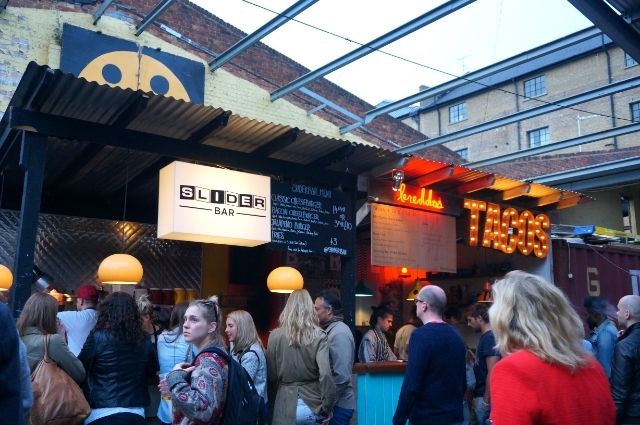 And that's all you need to never be invaded by food envy again!
Mission complete, you're ready to seize a beer and occupy a chair. All the Street Feast venues get busy, so it's best for one person to remain stationed at the table at all times while the rest of you go and raid the stalls. And if there's any chance that the procedure has been compromised, you can always request back-up from your team and set your targets on whatever supplies they've brought back instead!
It was by following the above strategy that I scored all of this delicious booty...
Wings from
The Orange Buffalo
- fried chicken smothered in a tangy, spicy sauce cooled by blue cheese dip and celery. The mixture of sauces left at the bottom of the tray was heavenly!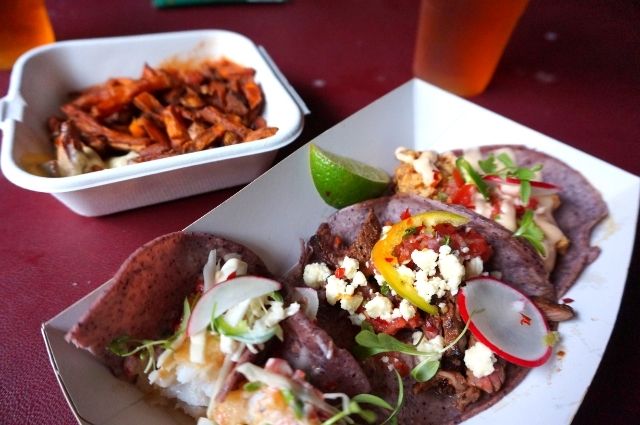 Sweet potato fries and tacos from
Breddos Tacos
- one was stuffed with beef with feta cheese, another buttermilk-fried fried chicken and the last (and also best) was a classic battered fish taco.
And dessert from
Yum Bun
- coconut ice cream enveloped in a deep fried steamed bun, topped with caramelised peanuts and drizzled with MISO BUTTERSCOTCH! Yes, miso. It seriously works. It was sweet and salty and if there had been any way of getting hold of that squeezy bottle there would have been carnage.
Besides the food, the next best thing about Street Feast at Dalston Yard is the decor. The corrugated iron, open ceilings and graffitied walls give off a sort of post-apocalyptic vibe (but in a good way). It's all a little bit Blade Runner and I half expected a massive TV screen with a Japanese woman on it to float over my head.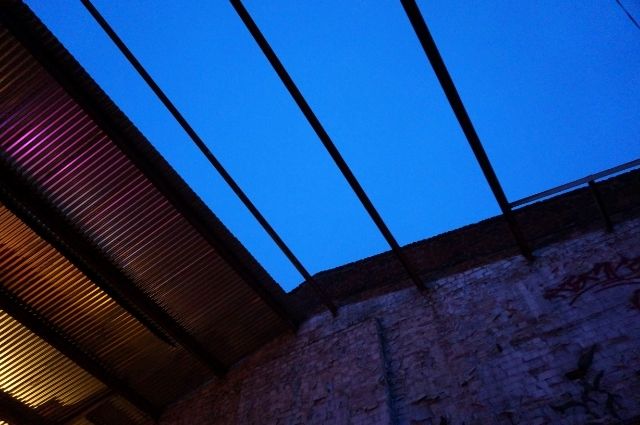 There are three Street Feast locations and I've also been to the other two,
Model Market
in Lewisham and
Dinerama
in Shoreditch (following the procedure outlined above in both instances, of course). Each market has it's own unique charm, but they're all decked out in the same kind of style. Unfortunately, Dinerama is currently out of action due to a recent fire (suddenly realising that my military metaphor might be in slightly bad taste...oops!). It's due to reopen really soon though. Good luck getting everything all set up again guys!
The atmosphere at all of them is fantastic, with everyone happily eating and drinking and chatting away. Once the sun's gone down and it's getting a little chilly, fires are lit in metal barrels. As the light gradually fades, each stall switches on its luminous sign. Eventually you're surrounded by colour and music and incredible smells. So what are you waiting for soldier?! Go go go!