It's so long since I last wrote a blog post that you'd be forgiven for wondering if I've forgotten what one even is! Well I haven't, don't worry. And, what's more, I've written one! It's a very special one too, because a few Sundays ago Tom and I witnessed the beautiful union of two beings that were absolutely made for each other.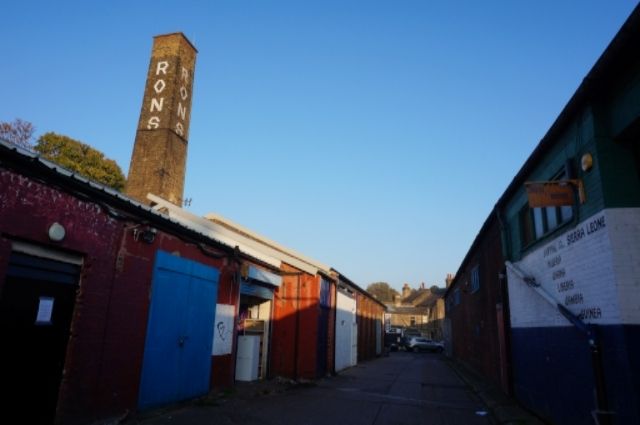 Yes, on 1 November 2015 we had the honour (well, paid £18 each for the pleasure) of attending the coming together of
Forza Win
and
Flock & Herd
. Forza Win is a former pop-up that has permanently settled in Peckham, and Flock & Herd is an award-winning Butchery on Bellenden Road. They both enjoy reading and romantic walks along the beach (see? Match made in heaven).
Once upon a time, they were joined as one in a ceremony involving a whole cow and a BBQ that was so wonderful it prompted them to re-new their vows (I started this metaphor and I'm going to see it through) every month, and luckily everyone's invited.
On the first Sunday of the month, Flock & Herd prepares a cow, which Forza Win cooks over a wood fire. A number of burgers and steaks are available on the day, but the best bit is that you can pre-book prime cuts in advance. There were only two of us and the only pre-bookable steaks for fewer than three people were rump, so that's what we went for. However, there are also cuts to feed up to four people. This means that, at the cheaper end, you could be paying only £13.75 each for excellent steak plus chips and salad!
There was something liberating about having chosen and booked in advance. There was no agonising over the menu or paying at the end (the worst part of eating in a restaurant, I think we'll all agree). It was kind of like eating at home, in that there was only one option, except that we didn't have to do the cooking.
So with our names on a couple of steaks, we strolled along to the Forza Win warehouse (accessed via the trusty Bussey Building) and took our seats on one of the two huge picnic benches. Forza Win is all about communal dining, bringing strangers together over well-sourced and cooked food. To be quite honest, I wasn't 100% comfortable with this aspect. It takes a special kind of effort to talk to absolute strangers and I'm not sure I had the energy for it that Sunday, the day after the night before. Luckily though, at 3pm the place was quite quiet and we were able to sit slightly apart from everyone else (which is what all of the other groups in the room were doing, so we weren't the only antisocial ones). It's a nice idea though FW, and I plan to return on a day when I'm feeling more amenable to people.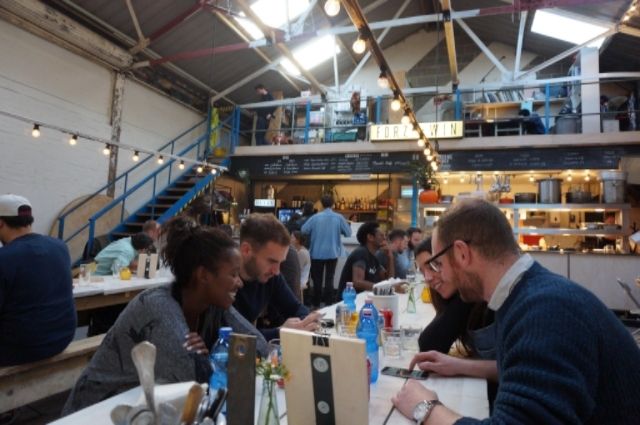 The homely feel is extended by the warehouse itself, which combines dining room, open kitchen and loft office. It's brightly lit and white-washed, so it feels more like the apartment that I one day hope to have than a restaurant. There's even random stuff all over the place, much like in my house (except that I only
wish
I had a gigantic acrylic burger stuffed away on the top of my cupboard...). Usually, I go to a restaurant to feel like I'm getting away from home, but on a chilled Sunday afternoon, it was actually quite refreshing.
About 30 minutes after sitting down, we were presented with a huge bowl of chips and a sharing plate of steak and salad (which we promptly de-shared onto two side plates: I feel nervous if I don't have a plate of my own in front of me). I'd never had rump before, but it was a satisfyingly thick slab of meat that wasn't as tender as fillet but was just as delicious: perfectly charred on the outside and juicy in the middle. The tangy fennel salad cut through the richness nicely.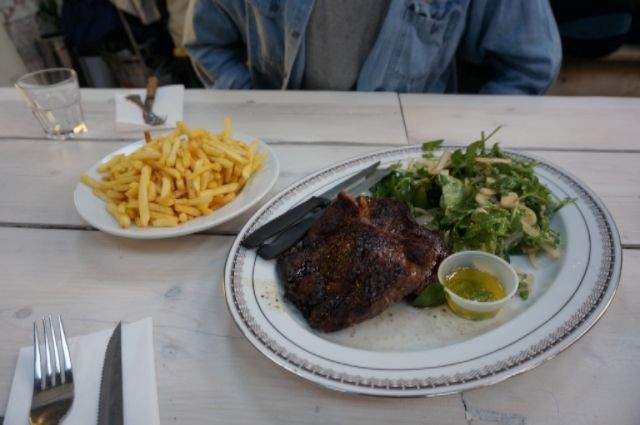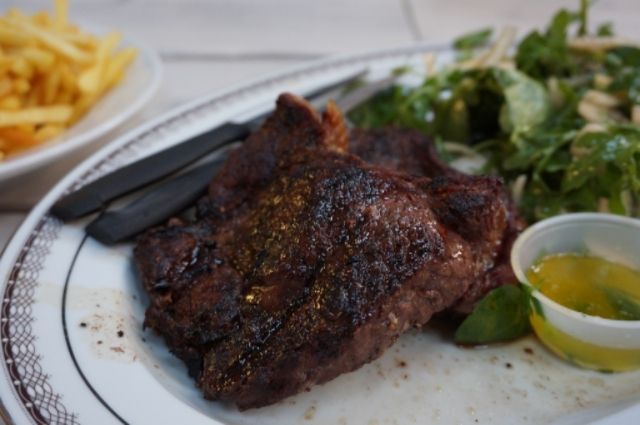 We weren't there too long but if there were a few more of you and you could face drinking again after Saturday night, then you could definitely linger. I would very much like to go back and do that, so let's hope this is a marriage that lasts!