Tom and I recently had one of my best kinds of evenings - dinner followed by a film at two of our favourite places in Brixton.
It all started with molten cheese on a circle of chewy sourdough...
Franco Manca
is something of a legend in the world of pizzas, and is widely thought to make the best in London.
Their Brixton branch is located in Market Row, a covered arcade which is like a little town - a network of alleys lined with tiny cafes, restaurants and bars whose tables spill out onto the 'street'.
Whenever I've been to Franco Manca there has been a queue, but if you pick your time well (we went about 6pm on a Friday) you won't have to wait too long. And they give you the menu to look at while you do (I knew what I was having though - I'd already looked at the menu online at least five times that day, as usual).
The menu is short and sweet - six kinds of pizza, two different salads and a few specials.
To our joy they had burrata that night, which is like mozzarella on speed - a firm mozzarella shell filled with a soft, runny mixture of cheese and cream. Look. At. It. Ooze.
Pizza-wise, we went for one topped with capers, olives, anchovies, garlic and oregano, and one with dry and semi-dry chorizo.
They are wood-fired, spread with thin layer of tangy, slightly sweet tomato sauce and dotted with pools of liquid mozzarella, which is sparse enough to allow the base to shine through (more on that later). The chorizo was chorizo and therefore it was good. The anchovies were super salty, but they were offset by the freshness of the capers and the generous crust. All of the toppings are high quality, carefully sourced and perfectly balanced.
But (and I can't believe I'm saying this given that cheese is involved), it's the bases that really make these pizzas. They are so much more than just an edible tray for mozzarella and tomato sauce. The dense, salty crust is slightly charred and crispy on the outside, but soft and chewy within. They're so good that you're glad the toppings are minimal. I think I might even be content with just an entire circle of crust.
"Where did my pizza go? The pizza thief must have taken it. I certainly didn't eat it all. Definitely not. No."
And the best bit about meal and movie night is that even after you've finished your dinner, the excitement isn't over - you've still got a whole film to watch (and snacks to eat).
We walked about three minutes to the
Ritzy
, a grand old Picturehouse cinema (first opened in 1911!) where the staff are friendly, the seats are so comfortable that you feel like you're wearing a huge, fluffy dressing gown, and there are loads of fancy snacks to choose from.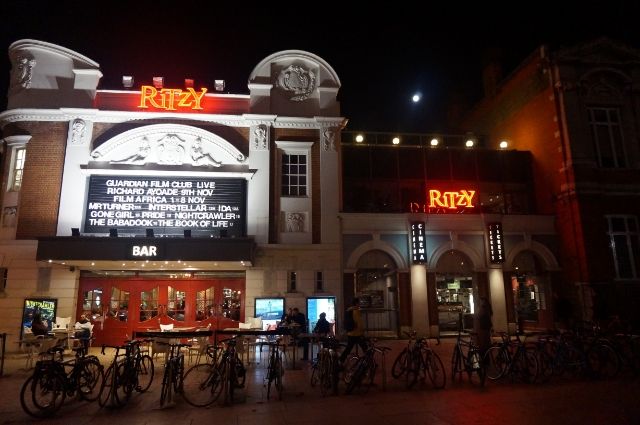 There's a bar too, where you can buy drinks to take into the theatre with you.
We were so full from dinner that it was either wine or treats though, and treats won. Here's why.
The film we saw was Mr Turner, and we adored it. JMW Turner was already a hero of mine (we even went on a pilgrimage to Petworth House and Park in the summer) so I had very high expectations. Thankfully, Mike Leigh and Timothy Spall didn't let me down. Spall's Turner was a gruff, sometimes even cold man, but every now and then you witnessed him experience such intense feeling that you understood how he produced such astoundingly beautiful and emotive paintings.
Any favourite places of yours that I should know about?