Hey. Apologies for the hiatus, I'm doing an extracurricular course in art law and we had an essay due this week (can't believe I'm voluntarily writing essays now. Who even
am
I?!?!).
Anyway, so you know Grayson Perry? He's an actual living legend. We have this game that we play at Christmas, where we go around the table and each person says which celebrities are driving their "love" and "hate" buses. This Christmas just gone, Perry was unanimously voted our "love" bus driver. He's making art accessible in the most inventive ways, and guess what! He currently has an
exhibition
on in London...
So back when I wasn't spending every spare minute researching what sort of trouble you can get into when that valuable painting you bought turns out to have been stolen, me and Tom popped along to the National Portrait Gallery to see it.
The exhibition has been produced in conjunction with a three-part TV series that he made for Channel 4. Both are called "Grayson Perry: Who Are You?" and tackle the slippery and complicated concept of identity in modern Britain.
In the show, Perry spends time with different people, getting to know them, figuring them out. At the end he produces a portrait incorporating the various aspects of their lives that particularly make up their identity. But, being Grayson Perry, these are no ordinary portraits. People are made into his famous pots, sculptures and even a hijab, and they have been interspersed among the National Portrait Gallery's permanent collection. I highly recommend that you watch the series before going to the exhibition, so that you have the deepest possible insight into each of the pieces. You can find it on
4oD
.
The exhibition begins with a self-portrait, in the form of a map of a town containing everything that makes up Grayson Perry. It's incredibly detailed and intricate, you could look at it for hours. I wanted to stand there and absorb every single thing, but there was more to see and we had to get on (and I'm not tall enough to see the stuff at the top anyway).
Next, a portrait of us Brits in the form of a huge tapestry. It lists all manner of things that both genuinely and stereotypically make up our national identity, some that we are proud of and others that we might be a bit embarrassed to say make us British.
"Memory Jar" is the result of one of the most touching stories explored on the show. It's a portrait of Christopher Devas, who has Alzheimer's, and his wife, Veronica. Alzheimer's itself features too, as a demonic creature cutting the couple's shared memories into shards with a huge pair of scissors.
One of my favourite portraits was that of Alex, a transgender guy portrayed as a Benin bronze-style statue inspired by the one of Peter Pan in Kensington Gardens, entitled "I am a Man". There is always a few months' break between the subjects sitting for Perry and their finished portraits finally being revealed, so by the time you see Alex again he has already changed so much. It's very moving to see how touched he is by Perry's interpretation of his journey.
Not only are the portraits beautiful and emotive, Perry appears to have thought hard about where to place them among the Gallery's permanent collection, so look carefully. Tom pointed out that "The Deaf", a punk band poster portraying a deaf community, has been hung face to face with a portrait of Margaret Thatcher, punk's nemesis, giving a speech. That's, like, irony or something...
The exhibition manages to ask serious and insightful questions while still being humorous (just wait until you see the portrait of Chris Huhne), and Perry's breadth of skill and imagination is endlessly impressive. The exhibition closes on 15 March, go see it while you can.
All that standing in front of things and marvelling earned us some cake, so afterwards we went to
Bageriet
, a Swedish bakery hidden away on Rose Street in Covent Garden.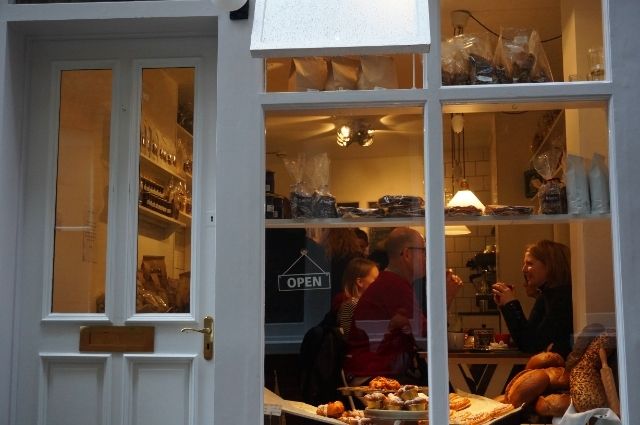 It's quite a compact place, with space for only about eight people. We had to wait a little while for seats, and for some weird reason the other people at the four-person table we shared were sitting next to each other rather than opposite, which meant we had to sit opposite
them
and sort of awkwardly turn towards each other to avoid accidentally playing footsie with absolute strangers.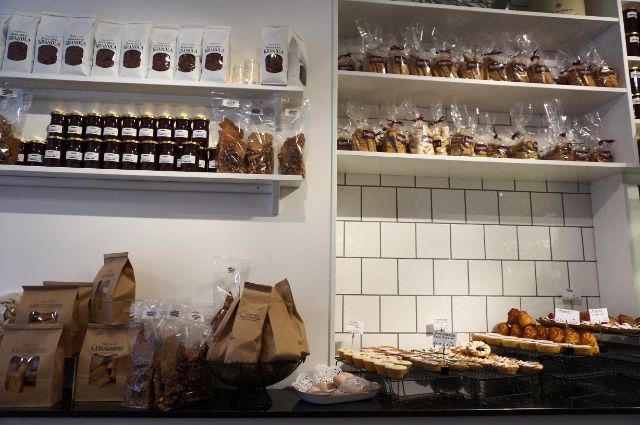 But besides that, it's delightful - full of delicate pastries and intriguing Swedish goods, and decorated in the minimalist, Nordic style you would expect. We each had a huge salami and brie sandwich on pumpkin-seedy bread, and then shared three sweet things (we'd missed breakfast, ok?!). A cinnamon bun, of course, a sort of muffin thing filled with nutella and topped with caramelised almond slivers and a buttery, flaky pastry with custard
and
marzipan at its centre. Yum, yum, thrice yum!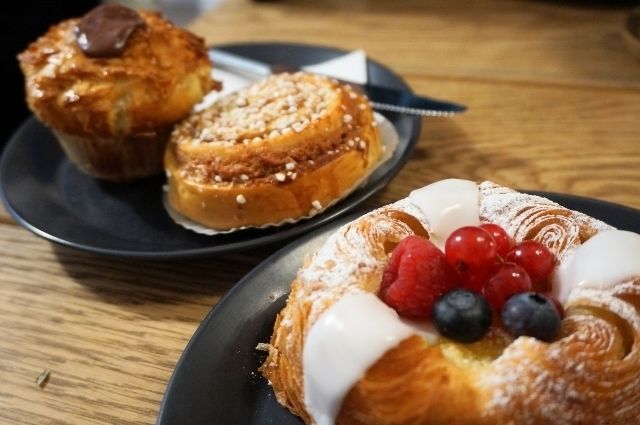 So, who am I? Well, after that I'd say at least 60% cake.