You can all stop panicking now people, I'm back!
Sooo I haven't blogged for quite a while, but I promise I have good reasons. I
mentioned a few months ago
that I was doing a diploma at the Institute of Art and Law. Well, we were assigned our final two essays at the beginning of April, to be handed in at the end of June. Naturally, I kept telling myself that I had looooaaaads of time, and then all of a sudden there was only a month left and I had to spend every spare minute frantically writing about the nationalisation of artefacts and whatnot. I put blogging, running and fun of any kind on hold.
And, err, once I'd handed them, for a while the last thing I wanted to do was write, so I've spent a few weeks just overdosing on life and making up for all FOMO. It's time to get back to it now though, and I thought it was only apt that I write about something arty such as The Line, London's first ever modern and contemporary art walk.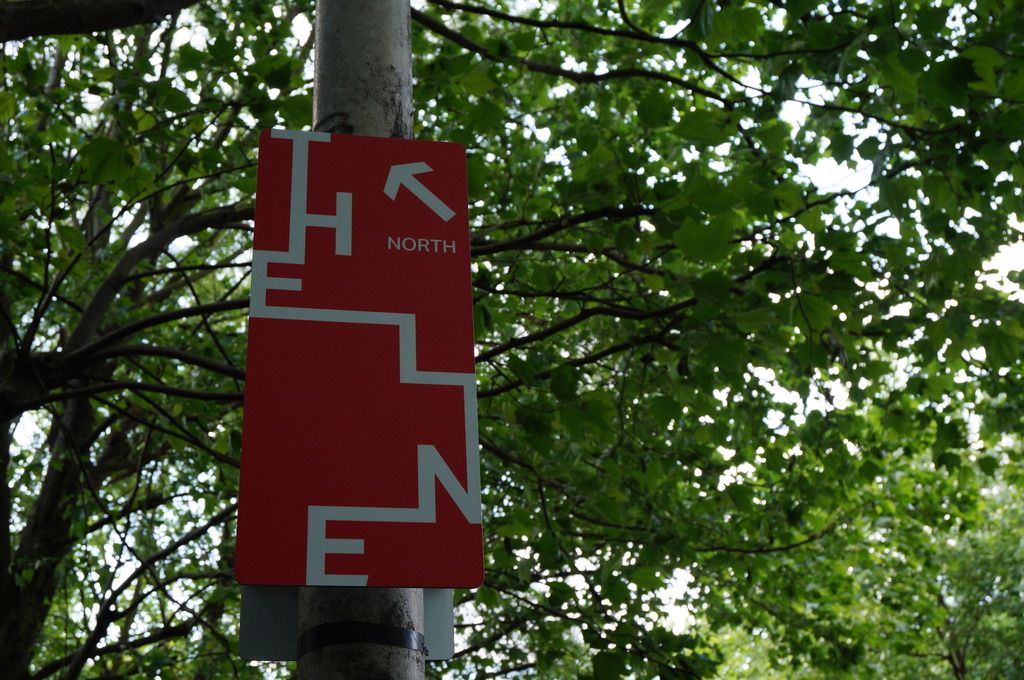 The Line runs between the Greenwich Peninsula (North Greenwich tube) and the Queen Elizabeth Olympic Park in Stratford (you can start from either end, or from various points in the middle) and is dotted with modern and contemporary sculptures by artists such as Martin Creed and Damien Hirst. According to the website, the pieces are on loan for two years and new ones will continually be introduced.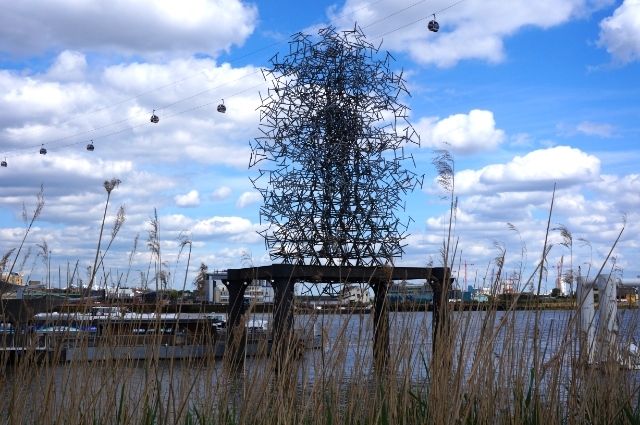 We started at Greenwich and I must admit that we spent about twenty minutes circling the O2 and getting cross with each other before we actually saw any art, but we finally found "Quantum Piece" by Antony Gormley (photo above) and figured out where we were supposed to go. There were hardly any signs and the map on the website isn't the easiest thing to use (although it is contorted into the words "The Line", which is a nice touch), so we completely missed the other two or three pieces that are at this end. Fortunately, it became better signposted the further north we went, so perhaps they just hadn't finished signposting the Greenwich section yet. We walked it at the beginning of June, so perhaps it has improved since then.
The walk is about three miles long and you can walk (or cycle) the majority of the way, but you have to get the Emirates Air Line across the river from North Greenwich to the Royal Docks, and later you have to take the DLR a couple of stops from the Royal Docks to Cody Dock. I had never been on either so I didn't mind at all, and you can use your oyster card on both.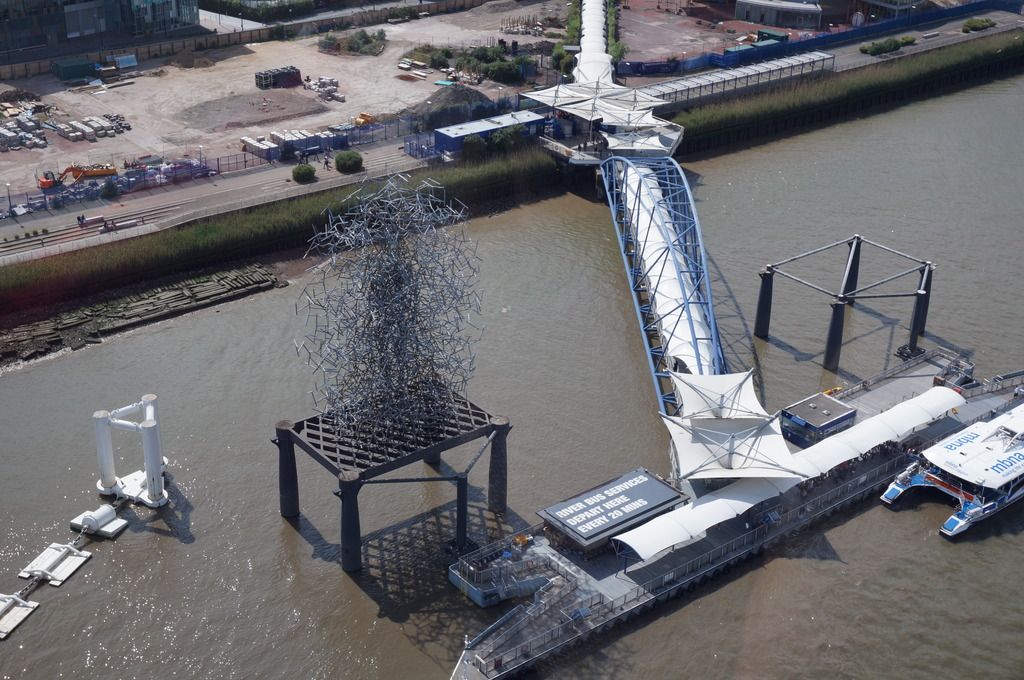 The Air Line was one of my favourite bits, even if we did travel across with a couple who were eating the most pungent packet of crisps I've ever had the displeasure of smelling! Goodness knows why they thought the best time to eat them was while trapped in a small plastic box with strangers...
This gigantic fella is Eduardo Paolozzi's "Vulcan". A huge, cubist bronze statue that made me think a bit of the Robots in
Castle in the Sky
.
This one is by Martin Creed, but for some reason there wasn't a sign for it so we had to make of it what we could. A family of beams, yes?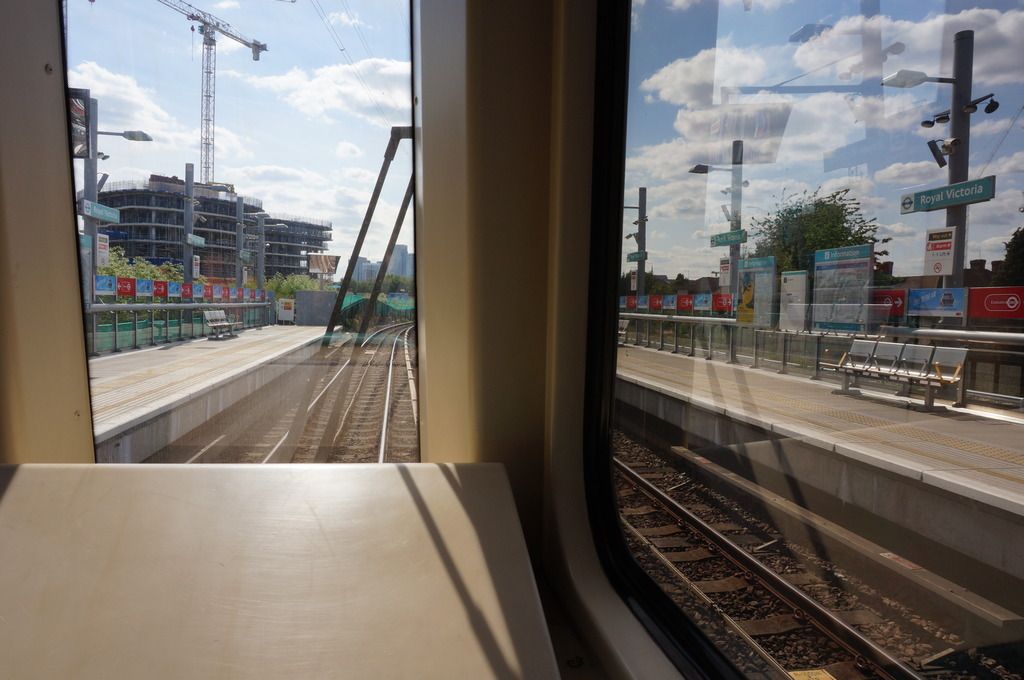 We sat right at the front of the DLR, of course, so we could pretend that we were driving. Beep beep!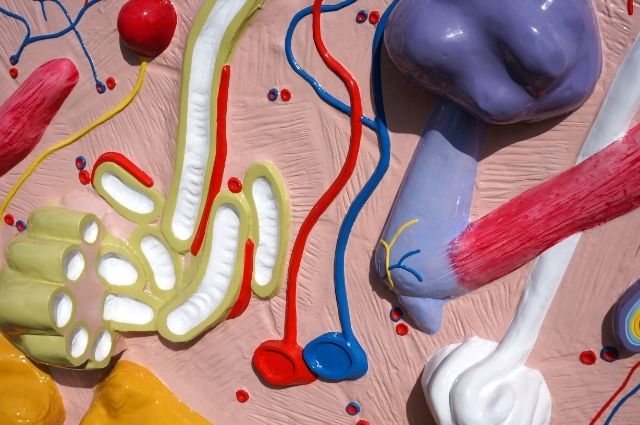 This is the Damien Hirst piece, "Sensation", which is a massive cross-section of skin! Somehow he's manged to make something highly anatomical really quite attractive and compelling.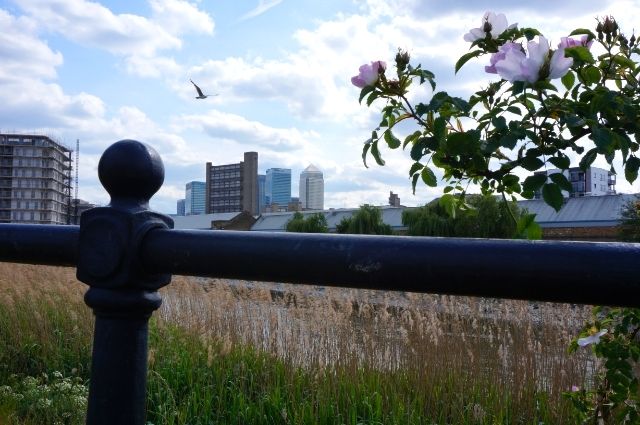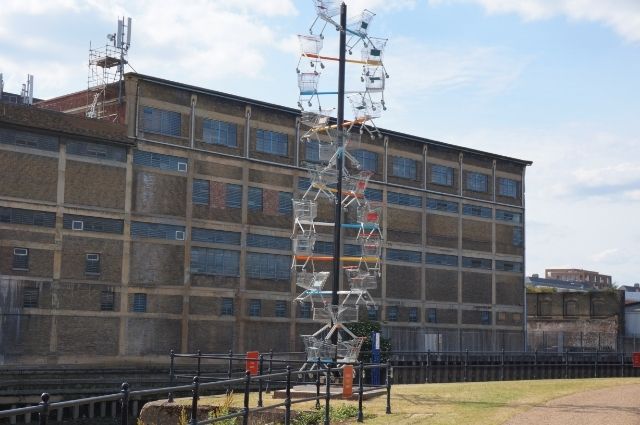 I think this one was my favourite. "DNA DL90", by Abigail Fallis, is a double helix made out of shopping trolleys. It was commissioned by a supermarket on the 50th anniversary of the discovery of DNA's double helix structure, and was used to raise awareness of muscular dystrophy. According to the artist, it represents modern society's consumer culture, which is now inherent in our genetic make-up. Scary thoughts for a sunny Saturday afternoon!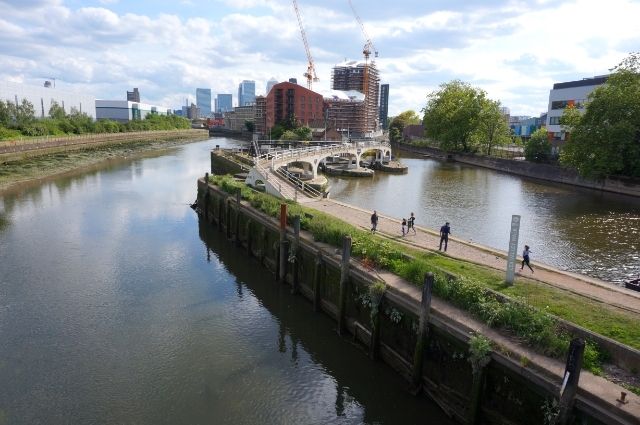 The scenery varies throughout - one minute you're walking through an industrial estate and the next you're alongside the River Lea, with trees overhead and birdsong filling the air. For me, that's one of London's greatest charms. I'd recommend that you go on a sunny day though, so that the urban parts don't seem so dingy and the canalside bits are at their best.
Sure, there were times that I wondered where I was and why I was there, but the pretty bits made up for it. Cody Dock is particularly lovely.
There are currently eleven artworks in place with the potential for more to be added. The whole walk took about three hours and was the perfect way to while away a free afternoon. Of course, there may be more scenic, less urban, walks in London, but none where you can see a gigantic double helix made out of shopping trollies!